May is Women's Health Month!
An estimated two million U.S. women reach menopause every year. But many begin to experience an array of physical, mental, and emotional symptoms long before menopause. Naturopathic doctors use a whole-body approach to address perimenopause symptoms and to strengthen the foundation of a woman's health so she can thrive through the changes. Here is information that will help you understand how naturopathic doctors help women thrive during perimenopause.
Questions about naturopathic medicine? Here are answers: "Naturopathic Medicine: 100 Frequently Asked Questions" is a series of facts covering everything you want and need to know about naturopathic doctors and naturopathic medicine. This service is brought to you by The American Association of Naturopathic Physicians and the Institute for Natural Medicine. In the latest FAQ, learn about how naturopathic doctors help women in perimenopause.  Click here to read this FAQ and others in the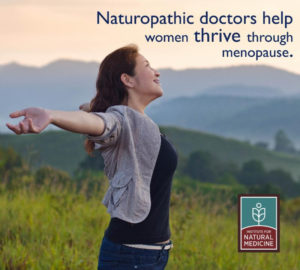 series.