Straws Documentary Free Viewing at the Camas Library on Monday!
Earth Day 2018 is Sunday April 22. The Earth Day 2018 Campaign is: End Plastic Pollution.  Plastic pollution is poisoning our oceans and land, injuring marine life, and affecting our health! Earth Day is dedicated to providing the information and inspiration needed to fundamentally change human attitude and behavior about plastics.
In honor of this year's Earth Day campaign, two local women – Geri Rubano and Alicia King, and the Camas Public Library have teamed up to present a free screening of the award-winning documentary STRAWS. Directed by Linda Booker and narrated by Oscar winning actor Tim Robbins, the 33-minute documentary highlights the environmental impact of plastic straws and seeks a new path forward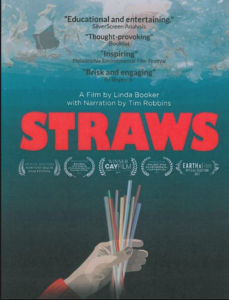 with sustainable straw alternatives.
The free documentary screening is open to the public and begins at 6:30 p.m., Monday, April 23, at the Camas Library, 625 N.E. Fourth Ave.
For more information about the documentary, visit strawsfilm.com. To learn about plastic straw dangers, visit blueocean.net, strawlessocean.org or thelastplasticstraw.org. Some sustainable alternatives to plastic straws include aardvarkstraws.com and ukonserve.com.