How Do Naturopathic Doctors Help Address Men's Health?
***June is Men's Health Month!***
Five key lifestyle changes can add up to 12 years to a man's life, according to a new Harvard study. But unhealthy lifestyle habits, less frequent screening, and late treatment for preventable chronic diseases all result in men dying at greater rates than women from causes including heart disease, diabetes, accidents, and cancer. Naturopathic doctors can help, with a unique, accessible approach to men's health. They focus on natural, non-prescription therapies, patient education, and lifestyle changes. Here is new information that will help your readers understand how naturopathic doctors help address men's health.
Naturopathic Medicine: 100 Frequently Asked Questions. A NEW series covering everything you want and need to know about naturopathic doctors and naturopathic medicine. This FAQ series is helping to educate and inform patients, consumers, and build awareness and credibility for the profession.
Thanks to INM Institute for Natural Medicine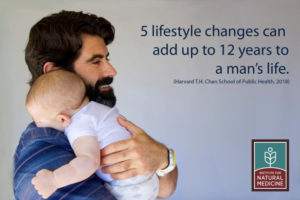 and AANP The American Association of Naturopathic Physicians  for this content.