Category Archives:
Seasonal
New at Blossom for the summer – Badger Sunscreen Lip Balm, Badger Anti-Bug Spray, & Goddess Garden Sunscreen.
Badger Sunscreen Lip Balm: Don't forget to protect your lips when you're out in the sun! Badger Unscented Sunscreen Lip Balm Broad Spectrum SPF 15 delivers UVA-UVB protection in a certified natural product. This unscented formula is safe for kids and the rest of the family. Badger Sunscreen Lip Balm is eco-friendly and features the active ingredient zinc oxide. Cruelty free.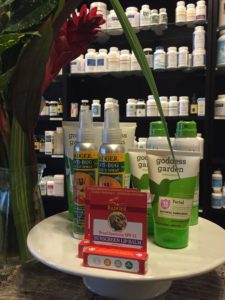 Badger Anti-Bug Spray: Good For the Skin. Bad for the Bug.®  Badger's Anti-Bug Shake & Spray is a totally organic & natural bug spray repellent. Using pure essential oils to naturally keep bugs, mosquitoes and insects away from you and your family. This organic Shake & Spray bug repellent naturally repels insects with the pleasant aroma of Citronella, Rosemary, and Wintergreen essential oils. Badger Shake & Spray contains no DEET, petroleum products, or synthetic chemicals, and has been independently lab tested for efficacy – so it's safe and effective for the whole family!
Goddess Garden Organics – We are carrying The Goddess Garden SPF 30 Facial Sunscreen, an SPF 30 Natural Sunscreen Spray for Kids & and 'After Sun Gel'.
• SPF 30 natural Facial Sunscreen: Certified organic facial sunscreen packed with nourishing and natural antioxidants and anti-aging ingredients including coconut oil, green tea, and immortelle. Easily worn with makeup, this sheer formula is non-greasy and lightly scented with lavender essential oils. Gentle formulation works well with dry and sensitive skin types!
• SPF 30 Kids Natural Sunscreen Spray: Protecting your children from the sun could never be easier with this mineral-based, lotion spray sunscreen. Formulated sunscreen uses only gentle plant-based ingredients [including aloe vera, sunflower oil, and shea butter] & non-nano zinc and titanium.
• After Sun Gel: Enjoy the healing powers of aloe vera gel, without the sticky residue! This lightweight after-sun gel is silky and fast absorbing, making it ideal anytime your skin can use a little extra help. Not just for sunburns, this year-round healing gel can help counter the effects of chlorinated pools or salt water, and can also ease the discomfort of extra-dry winter skin. This unique formula contains organic tea tree and lavender essential oils to cool and soothe sunburned or irritated skin, while allantoin rehydrates your skin for a healthy, youthful look. Use after your outdoor outings, or try as a daily moisturizer or shaving gel.