Category Archives:
New Products
This is the natural deodorant you are looking for! Primal Pit Paste is an organic, all-natural deodorant that actually works! Baking soda neutralizes the bacterias that causes odor and organic arrowroot powder helps you to feel dry while allowing you to still sweat and release toxins. These powders are mixed in a base of moisture rich, anti-microbial organic coconut oil and organic shea butter to soothe skin.
And it works!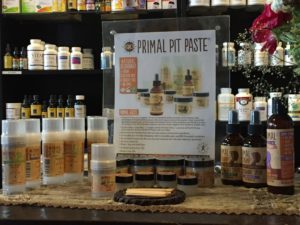 Blossom is currently carrying Primal Pit Paste, Primal Pit Paste Deodorant Stick, Primal Pit Pump Deodorant Spray, Primal Powder.  These products are:
• Aluminum and Paraben Free. Only consisting of organic & natural ingredients.
• No Synthetic Fragrences. PPP uses only pure essential oils with odor fighting capabilities.
• Gluten, Soy & GMO Free.
• Vegan.
• Cruelty Free.
• Sustainable, Eco-Friendly Glass & BPA-free plastic Packaging.